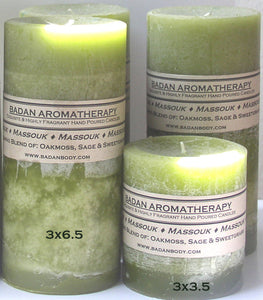 Massouk Pillar Candle Set
Regular price $ 28.95 Sale
MASSOUK - is a completely extraordinary earthy blend of oakmoss, a hint of white sage and Native American sweetgrass. The incredibly rich scent of this blend will totally blow you away. I first introduced Massouk at my art shows in Fall 2006, and because of its popularity, is now a permanent part of my collection. A great choice to burn when you really want to calm down and meditate or focus. Massouk is sensual, rich and earthy (without being "moldy" if you know what I mean). Never perfumey or overpowering because I use real oakmoss essential oil as part of my one of a kind fragrance blend.
Oakmoss has been used for centuries in perfumery and is one of the greatest staple perfume components. A main ingredient used to add green earthiness to a scent blend, and one of my favorites.
One Massouk fan said in a lovely email to me, "Because I am a writer but have a 9-5 (blah) I have to have my Massouk candle burning at night when I write...please don't EVER discontinue this one."
 SIZE AND BURN TIME 
This set has 2 candle sizes: 3x3.5 and 3x6.5
HEIGHT:................3X3.5"~~~WEIGHT................12oz (.75 lb)~~~BURN TIME.......... 70 Hours
HEIGHT:................3X6.5"~~~WEIGHT..........23.2oz (1.45 lb)~~~BURN TIME..........110 Hours
Materials:
wax,natural paraffin wax,oakmoss essential oil,sweetgrass,white sage
We are committed to shipping your order as soon as we can. However, due to current circumstances surrounding the Covid-19 pandemic, shipping and delivery are taking longer than usual

Standard delivery:

• Order by 3pm Monday through Friday for delivery within 3-5 business days.
• Holidays are excluded.

Need your order in a hurry?

• Please let us know in the comments of your order, an additional Rush Fee of $10 may apply.

Important delivery information:

• Orders are shipped Monday-Friday.
• Business days are Monday-Friday, excluding state and federal holidays.
• We do not ship on Saturday, Sunday or national holidays.
• If you place an order on a weekend or holiday, we will process your order the next business day.
• Orders cannot be split and must be shipped to a single address.
• We will send you an order confirmation email and an email once your order has been shipped.

RETURNS

If you would like to return an item, you must do so within 14 days from the date of delivery.